A gentle and quiet euphoria
%961 %UTC, %2007, %0:%Apr %p
meditation
Every morning I awake in the unfolding petals of my beautiful life, my head cushioned on a soft down pillow, and I let go of everything except the ecstasy of living. Perhaps it's years of meditation, but slipping out of the slipstream of thoughts, letting anxiety go, isn't hard. Being in the joy of living, the breath, the beating heart. At night I try to go to sleep in the same state, relieved of my life so I can embrace and affirm it. I am in love, of course I am in love. How could I not be?
How Writing Renews Itself
%706 %UTC, %2007, %0:%Apr %p
the writing life
Impasse with writing. Editing bits of, and only on whim, the last 4 books I've drafted. Considering structure, flow patterns, what the passage might be like for a reader. How much I wish to reveal and conceal of my life. What sorts of connectives and links the story of the stories needs. If it feels intuitively right, I go with it; otherwise, I keep working, trying different image patterns, polishing.
The flow patterns of the people walking past that I sit and watch from a bench in the underground concourse tunnels. Converging motion of intention. Routes. Auto-locomotion of the body, legs and limbs. The women in their high heels seem crippled in their motion, though they compensate for the tilt forwards, the way it bends the spine forcing it to balance to an unnatural gravity.

When I dance I can't wear heels. Bare feet is what I like best, and a black danceskin, and a small skirt - a silk sarong or large flowing scarf to tie around my hips. Maximal freedom.
Sometimes with dancing I become tired of my range of movement, feeling that I've explored that particular phase fully. Every phase includes all the previous ones, so the overall range is larger now, and each new phase lasts longer than its predecessors, but I still reach impasse. It gets heavy, onerous. The same range of motions. Nothing new. And then I stop dancing. Wind becomes stone. Bright sun on fields retreats into a cave. I curl into myself. Months go by, sometimes a year. When I begin again to dance it is like a new person being reborn. The way my body stretches into new motions and new interpretations of life's interweaving tapestries is often surprising to me. There is a new phase to explore, and it is joyous.
I've written upside down and inside out and in every imaginable permutation of the present phase of the way I string words together. I've stretched as far as I can in this lexicon and syntax and grammar and particular image patterns and sets of theoretical concerns. I feel like I'm tracing old maps. So I tinker with editing my manuscripts. This is how I spend my writing time now, and it is useful and good, cultivating and honing, while I wait to see how writing renews itself in a new phase.
These are only working titles, and could change. Instead of doing a PhD, this is how I've spent the past few years. Living on temp work and a little child support, seeing my children through their teen years. There are paintings too, but here's my little list of writings:
This Way of Falling Into What Is Receiving Us - 1986-2007 - about 100 pages, including paintings and dance
Book of the Dead - 2004 - about 50,000 words
The Move - 2005 - about 50,000 words
EnTrapped WOR|l|DS - 2006 - about 20,000 words
Poetry - 2003-2007 - about 50 pages, or more, including photopoems
Mountain of Seeds - 2007 - in progress, about 10,000 words
On the Strange Coherencies of a Life
%464 %UTC, %2007, %0:%Apr %p
home, intuition
What of what hasn't happened yet?

I want to write this story, the story of what hadn't happened but then did, but I surely cannot impart the sense of strangeness and wonder it elicited. Still, I shake my head in surprise.

When I returned to Toronto in 2005 I came without a job or a place to stay. All my household goods were stored by the moving company in Mississauga. For the first two months I stayed with an acquaintance. My compass spun wildly. Everything was open. The only magnetic centre was the school my daughter wished to attend, and for that we had to be in area and from out of province, since enrollment was over capacity. I did a specifically focused extended mediation on where I would live (meditation a significant part of my daily life for 13 years now). Because I don't want to reveal exact whereabouts, let me call it Albion, after Blake's 'primordial man' from his prophetic books. In the meditation it came that I would live on Albion Ave. That is a very expensive area, but there is a lot of student housing, too, so perhaps an older apartment in one of the large houses? My dog and I walked up and down that street over and over that Summer as I tried to fathom where the meditation and reality might meet. All that came of it was communing with some fabulous old oak trees and a sense of which side of the street it would be and what specific block it would be.

In an email on the 29th of August, 2005, I wrote:

"Albion figuring so prominently in my psychic life at present, that's unruly... it's been so insistent that I've been looking for accommodation on a street in Toronto called Albion Ave... how strange that you mention this word... I've been waking up and going to sleep with "Albion," and walking up and down the street here that bears that name, being one with the massive old trees, wondering what the pull is, what it means, why this word is so prominent in my consciousness... hmnnn...."

Nothing on Albion, but I found an affordable apartment just inside the school cache area that worked for us, moved in with two suitcases of Summer clothes and my computer (which I had sent by UPS separately), found everything we needed came to us (which was miraculous in its own small way), created a small lodging that never really became a home but sufficed, missed my son who was now living with his Dad, and puzzled over the Albion Ave intuition. And I've often walked on that street and felt rather silly, me and my 'intuitions.' I do get carried away.

Meanwhile, I was fighting with the moving company, who nearly doubled the monthly cost of storage from what they had agreed on in Vancouver to when my household goods arrived in Mississauga, and I had refused to pay them anything at all. I was also writing "The Move," about the uncertainty I was living in. At one point I thought I had lost everything, clothes, furniture, books, all my writing and paintings. When I let go of the need to hold onto my 'stuff' I found I was able to negotiate with the moving company. We eventually agreed on the original monthly amount and so I paid them a lump sum for the year that my goods had been in storage with them and my brothers and children and I moved everything from Mississauga to a storage company about 10 minutes from where I live. For the last 6 months I have been looking for better accommodation, to have a home again.

Nothing. It began to give me a daily headache, the looking. The Winter went by. Nothing quite right appeared. Some definite possibilities, but a 'no dogs' policy, or a tenant who decided not to move after all, those kinds of things happened. I was ready to give up. I ended up with an agency due to fatigue with the process of looking at screens and screens of ads daily. A unit came up not far from where we are living now, and while it was adequate, it wasn't quite right, but I was resigned to taking it. We had to move to a larger space.

Last Monday I went in to sign the lease when the office opened so I wouldn't miss too much time from work. As I talked to the rental coordinator, he mentioned that another unit had just become available, and it was unusual since people rarely moved from this building. It cost a little more since it's electric heat, but he said the location might work very well for my daughter's school.

Where is the unit?

You guessed it.

Albion Avenue.

I signed the lease without seeing the apartment. That's how deeply I trust intuition. When my daughter and I looked at it later that evening we were quite happy with it. The bedrooms are very small, but there is light and enough space and the location is perfect. It'll be a good space for working, writing, painting, and for living, I can feel that. It's on the side of the street that my intuition indicated in 2005, and a stone's throw from a cafe that I 'saw' us eating breakfast at...

Last night I took my dog to the small townhouse and said to her, "Home..." She sniffed the door and looked slightly puzzled but happy. Sort of like me. And then I thanked every one of the massive old oak trees as we walked up the street that we will soon be calling home.
Heart Tones
%934 %UTC, %2007, %0:%Apr %p
heart, qualia
My heartbeat woke me. My pillow soft, the darkness of the cold Spring night, beneath covers, warm, hours of luxury to think, imagine, slip into underlying streams of thought, fascinated by wondering, exploring routes and trajectories, ideas and sensations, memories and future possibilities, yet sleep is crucial, work tomorrow, and so a mantra over and over, for stillness, to locate the cliff-edge of drowsiness, to fall into it. Why is it so loud, this beating? Blood filling with oxygen, the network of arteries, arterioles, capillaries and veins. Diastole and systole. I hear it in my left ear drum. It pulses, throbs with a steady beat. Pluck out the earplug. The clock ticks too loudly; my dog snores slightly. Squeeze the foam and push it back into orifice of ear. The steady thumping of a sea of blood thrown like a metronome against my inner ear. Usually I can't fall asleep on my left side because my heartbeat is too loud. But the thuds of heartbeat are loud no matter what side I lie on. How am I to dim the sound when it is inside me? All night, my beating heart keeps me awake.
At 5am I rose, let the dog out, made coffee, cooked sausages, eggs and toasted a bit of pumpernickel bagel. I read an email that caused me to Google Rilke, read some of his poetry and part of one of the
Letters to a Young Poet
. I imagined living at
Chateau de Muzot
, a small stone tower, where Rilke finished the
Duino Elegies
. How he carried them like a long delayed pregnancy, until, finally, they poured onto the page. Then I wondered if wax in my eardrum was causing a sensitivity to the inner sound of my beating body. I rose from Rilke to look for the Clary Sage oil. On the shelf of chaotic items, reading glasses, lip balm, books, papers, Tarot cards, sable paint brushes, I find it, tip my head, let some drops slide in to massage the ear drum. The pounding of blood through the heart is muted, distant, normal.
Later when I consider what to write, I remember the heartbeat in the night that kept me awake. Muscular organ of renewal. Ventricles and passageways. Central chamber for the maintenance of everything.
How do I approach it. Mortality, the thundering heart.
__________________
Qualia
, or the subjective response to sensations of the body, is the subject of this piece on the heart.
A Bouquet of Unopened Bulbs
%471 %UTC, %2007, %0:%Apr %p
Australopithicus afarensis, Coatlicue, Danakil Depression, Lispector, Lucy, tulip bulbs
A woman walks across the square holding in both arms a large bouquet of unopened bulbs, the top of the clear cellophane wrap in which they are encased is unfurled and open. Like wet paint strokes, the brush flat and full of green paint at the base of the bulb and thinning to a point, dozens, or more. One could not know from across the way, sipping afternoon tea. The imagination looks for corollaries: domes of Persian temples, fat and ready to open; sepals the colour of Green Tara; or Celtic sidhe, mounds, hills, where the fairy folk live who love beauty and wealth, fertile, magical, of the realm of promise.
In the resurfacing of the Zocalo in Mexico City in 1790, Antonio de Leon y Gama discovered the greatest archaeological find of 18th century Mexico. Twin stones. A statue of Coatlicue (she of the feathered skirt of serpents) and the Great Aztec Sun Stone.
She is Teteo Inan, Mother of the Gods.
For centuries prior to finding her, Mexicans laid flowers on the square for the Mother of the Earth. She was never lost, only hidden.
I'm writing to you as if I were tearing the snarled roots of a colossal tree from the depths of the earth, and those roots were like powerful tentacles, like the voluminous nude bodies of strong women wrapped in serpents and carnal desires of realization.1
Because the tourists who are in the news were kidnapped in the Danakil Depression it blisters the rotunda in which I sit, and I am twisted in the stunted roots of the dragon trees with broad-leaves and a stout trunks in the lowest place on earth. A festering place, 371 feet below sea level, lava oozing upwards, continuous fissures and hundreds of earthquakes each year, sulphuric pools, salt flats and salty lakes, unblinking sun, a scant few inches of rain a year, highs of 50C in the dry season.
Slow currents under the lithosphere, at the centre of a triple junction fault in the Great Rift Valley of Africa, with a seafloor spreading centre, moving at the rate of 1-2cm a year, Dankalia will submerge into a new sea in 10 million years.
How can the woman with the unopened flowers in her arms walk on a floor of lava? Magma wells up from the mantle, bones from the necklace of Coatlicue emerge as Australopithicus afarensis. She comes from under the earth. They find her in a gully in bits. She is a sky dancing with diamonds.

Can I dance with a hominid with one hip, a sacrum, a rib cage, a lumbar, a humerus, a femoral cranium? She is 3 feet 8 inches tall, 65 lbs and 3.2 million years old. She looks like a chimpanzee but walks upright. Lucy is a connecting link in the evolutionary story, and she was found in 1974 by two anthropologists, Johansen and Gray, near the Awash River, near the hot fields of basalt.
Buried earth mothers of the earth.
The shiny basalt floor of the rotunda heats and cracks as white-enamelled cast iron tables fall. I lay myself on the earth and lay the fresh, green, living, vibrant closed buds before me and they burst into multi-coloured bloom.
____________________
1Clarice

Lispector

, The Stream of Life (Minneapolis: University of Minnesota Press,1989), p.13.
Papilionoidea
%465 %UTC, %2007, %0:%Apr %p
You have no idea who you are. Razed, skinned, muscles exposed, then stripped to the bone. Marrow beating inside the sheath where you melt. Reorientation of neuronal patterns, old connections gutted as you renovate yourself from within. When the new circuits activate and energy flows, your thoughts aren't the same. A richer depth, a deeper resonance. You're more complete. New perceptions of the world and your relationships unfold like visionary wings inside your chrysalis. One day I'll see you gliding over the plains, an angel.
A Creation Story
%945 %UTC, %2007, %0:%Apr %p
time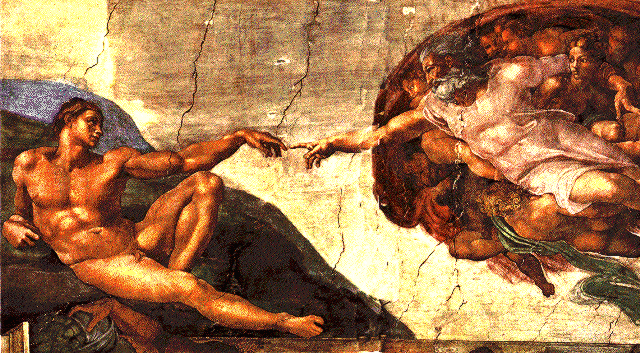 The Creation of Adam is a fresco on the ceiling of the Sistine Chapel, painted by Michelangelo Buonarroti circa 1511.
Otherwise it would all happen at once. Our births, lives, deaths. In an instant, a tableau of everything. Time slows it, lineates it, notches it. We experience ourselves event by event. We attempt to feel the fullness of the great expanse in our awareness of the moment, pure, insightful.
Time is a way of perceiving: measuring our lives, our moments of meeting, that we age. We are time travelers touching each other as we pass by. We know the wholeness of which we are a part; we reach for each other, our feather-soft breaths.
Is time an interpretation carved out of the undifferentiated? And space a way to spread it out, a place to live? The way we are separated in our individual beings. How our egos map the terrain of the unknown. Ropes we grab to cross the ocean of raw life. Without fixing ourselves in time and space, as coordinates, would it fly apart?
My pathway to you who are reading this was always known. Who you are is inherent in the writing. Destiny is not predetermined but the unfolding of the moment in the wholeness of everything that has or will ever exist. Does it spin on the tip of Zeno's Arrow?
In my image-creating mind, time is the crumbling sand beneath my bare feet as the ocean pulls it away.
Time is the rhythm of each day, activity by activity. At night, fatigued, we let go.
In meditation, I knew I'd left time; not a euphoria of timelessness witnessing the flow of time, but absence, non-being, not in the learned experience of time.
Perhaps death is a closure of time, where it ceases.
Time is the energy I have
for living.