Angel of Links
It's amazing to find these old paintings and how they 'work' as sidebars, or backgrounds, or navigation buttons, or whatevers, for my new
Art & Writings Website
.
This one will (yes, yes, a self-portrait from perhaps around 1989 in a large painting of about 5 self-portraits in varying guises as I attempted to re-find the painter within who had disappeared for a decade at that point). She 'oversees' a "
Links
" page.
And links to whose sites will I place there? Oh, this is
so
exciting!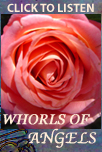 trying a simpler version, wishing I could make this into a card (painting from 1989, photo of rose probably 2004, prosepoem & recording from 2006, put together in 2009)
recording of this poem
(or click the 'click to listen rose':)
See Older Posts...